Lana Demkovic is the owner of the Green Hair Zone, and has been a top professional hair-stylist for almost two decades. Lana possesses extensive knowledge in various cutting and texturizing techniques, and is an expert in mixing color for all stages of the application.
Prestigious Backgrounds: Wella, L'Oreal, Davines, Schwarzkoph, Tigi Academy, Sassoon.
To remain a contemporary hair-stylist, Lana believes that it is important to invest time, resources, and continue in advanced training. She is assured that she can create unique styles for each individual. Her work experience includes Toronto and Newmarket. In the past, Lana has traveled around the world attending different hair seminars and hair shows. She is internationally trained by the best in the industry.
 We 'Love What We Do' and this is our way of giving back to our clients, community, and earth.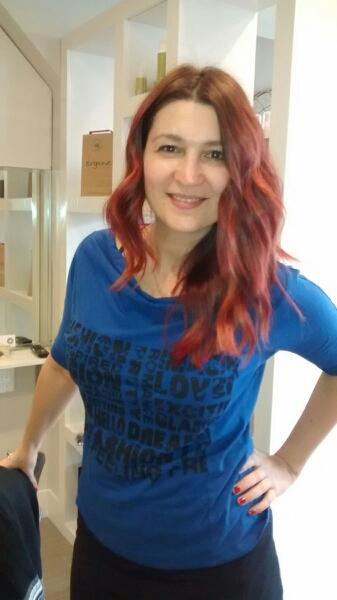 Green Hair Zone is new organic hair salon in York Region.
We are committed to provide a superior service to our valued clients by taking lifestyle, personality and physical attributes into account when creating a look that balances and best compliments you.  We are innovators in our industry. We protect ourselves and you – our valued clients from daily exposure to dangerous toxins. We are so thrilled that we can provide premium service to our guests combining our knowledge and best from technology.
Etiquette: Green Hair Zone team takes pride in creating the perfect escape to our clients from very busy day to day life – by making your visits relaxing, enjoyable and exciting. We are committed to provide superior service and strive to make your visit the best possible.
Check In: We recommend arriving 5-10 minutes prior to your scheduled hair services. This gives an opportunity to our clients to update information and enjoy a beverage prior to meeting with their hair-stylist. If you will be late for your app. please let us know as soon as possible.  We will make every effort to provide your hair services however; the time allotted to your service may be restricted or rescheduled if you are more than 30 min. late. If time is critical to your scheduled appointment on a certain day, please make us aware of you schedule when booking.
Reservations: Pre – booking your hair service in advance is highly recommended. To avoid disappointment or obtain time that works best for your schedule, please consult with your stylist about booking standing appointment.